Plan.
Stop emailing off the cuff and map out what messages would be essential for your subscriber to receive. With email marketing, along with most forms of content, consistency and value are key. There are many ways to keep on schedule but a content calendar that can be shared with your entire team is the perfect place to start. Writing it down puts it into action. Some of our clients utilize a Google spreadsheet. Our team uses Flow, a project management and collaboration system.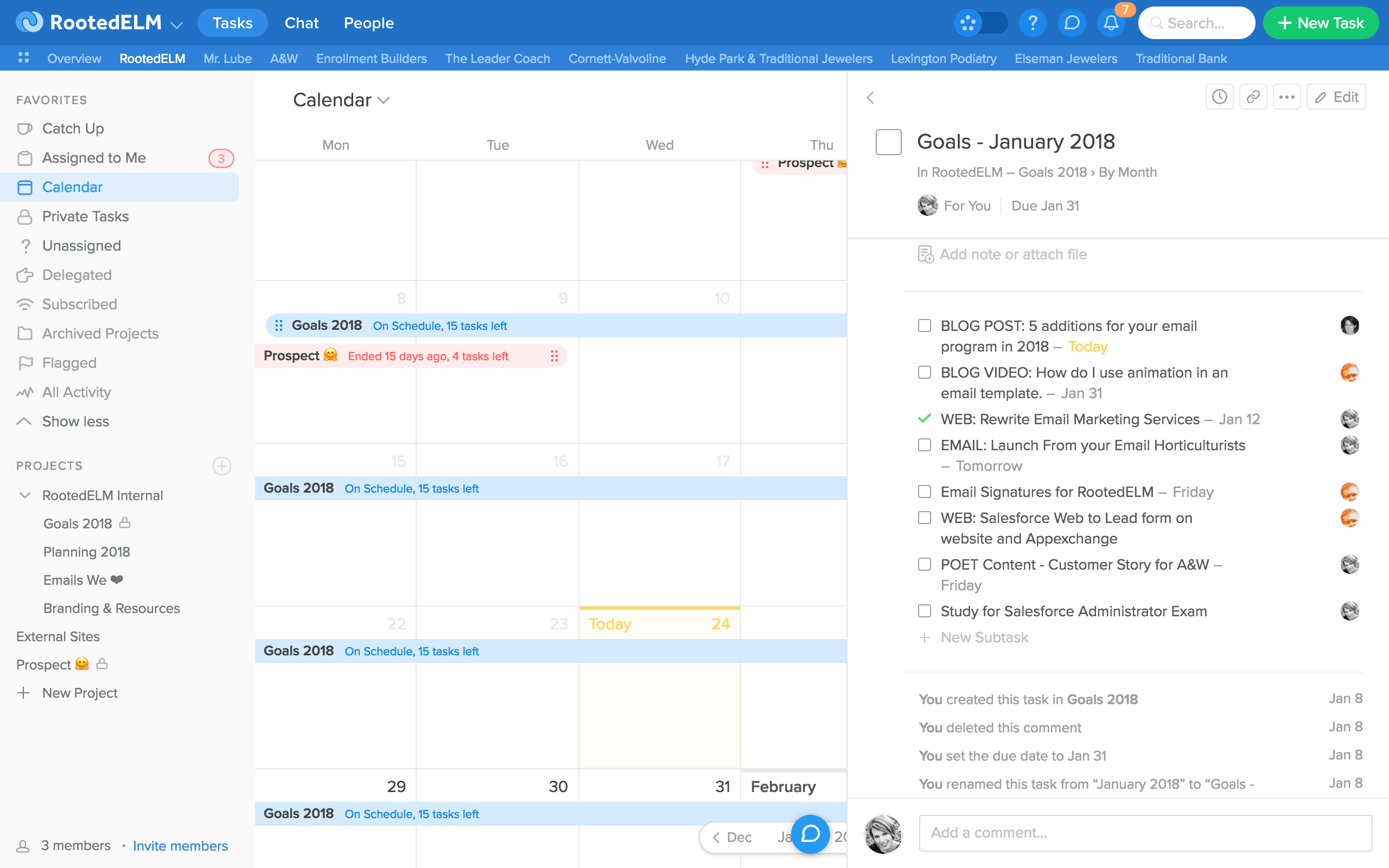 Start with your lifecycle campaigns. Pinpoint when it would add value for your subscriber to hear from you. A welcome series is the first place to start but after that would a birthday or anniversary campaign show the subscriber you are thinking of them? What about a reminder of an upcoming appointment or a survey after a purchase, completion of a project or a recent visit? Incorporating a reoccurring re-engagement campaign to your plan will make a huge difference and keep your subscriber list clean.
Tis the season — or is it? Add in seasonal email messages that fit your values and would be pertinent to your audience—not just trends because that's what you do.
Timing is everything. Be as consistent as promised with your audience when it comes to email newsletters and promotional campaigns. If they expect to receive an email the third Tuesday of the month, don't disappoint them.
Leave space for ad-hoc campaigns. These messages include latest promotions, company news, local events or an amazing blog post beneficial to your audience.

Conduct an Email Audit.
Audit your own email campaigns and audit others. We flag and share amongst ourselves email campaigns that resonate with us all the time, taking note of something that worked or in many cases something that could be so much better, mainly with email rendering. It's not critiquing — it's a learning process — a mental note for us to remember how an email was received and what to do or not to do.
Most likely your inbox is packed full of campaigns as well. Flag what you like then start a google spreadsheet or document with space for notes and a screenshot of the email. Share the link with others to add their input and do the same. Even just hitting print and making notes the old-fashioned way, storing the printed documents in a community folder, works.
Check out our Emails We Love series for ideas and evaluation on email campaigns we've received. If you would like feedback on a recent email campaign, please reach out and we will give you honest and validated feedback using our email analytic tool Litmus.

Develop a Remarkably Good Email Template.
Make it easy for yourself and your team to stay on top of your plan. With at least one good email template, your primary task will be writing the relevant content and sourcing supporting images. Almost every email service provider has templates that you can customize to meet your needs.
A template can be a pre-built, drag & drop style template as shown below from the Salesforce Marketing Cloud.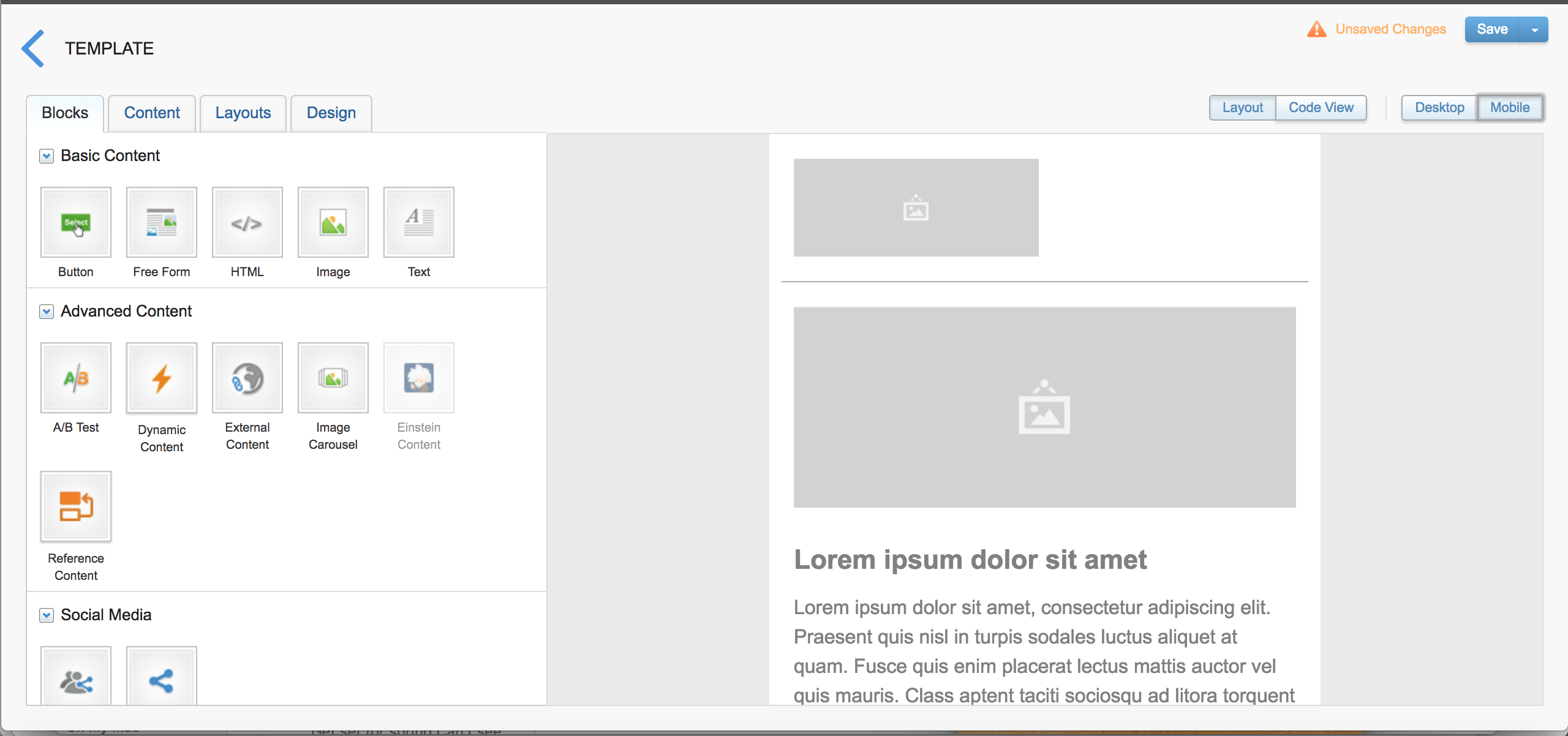 A template can be a custom HTML built to fit your ESP guidelines as shown below using Campaign Monitor.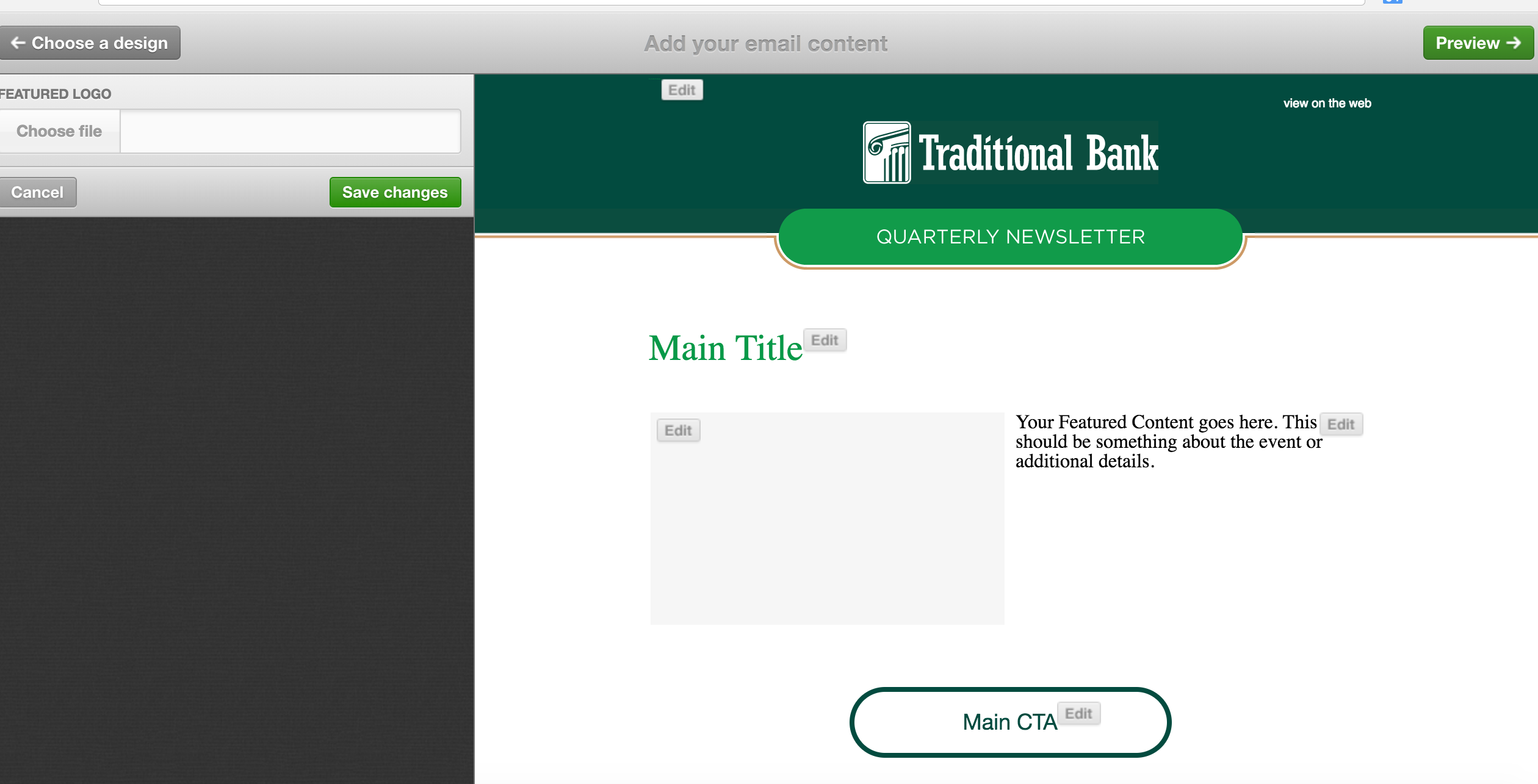 Our final example is our newsletter, "From Your Email Horticulturists" that we adapt each month using Litmus Builder then sync directly to our ESP.
Most of the assets and code remain the same for each issue. We edit the text and images within the HTML to differentiate one newsletter from the next as shown in this holiday email.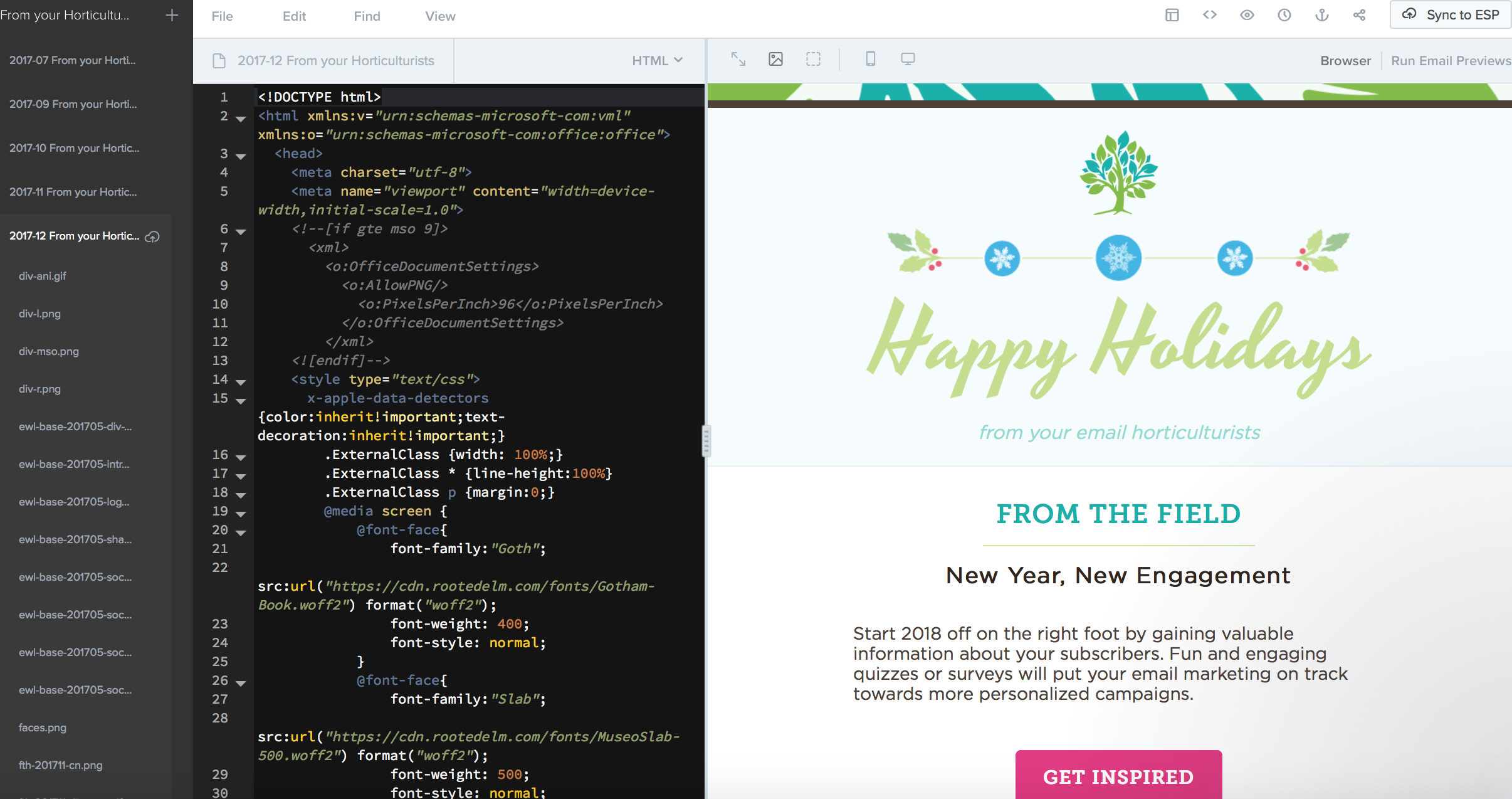 Get Cozy With Your Metrics.
There is so much you can learn if you just take the time to dive in and develop an ongoing visual document of your campaign trends, subscriber behavior, and gaps. A visual dashboard can be created using an excel spreadsheet or an online dashboard software like Klipfolio. Simply being able to quickly see in graphic form the health of your email marketing program will pay off greatly in the long run. Think of all the decisive and validated planning you'll be able to do.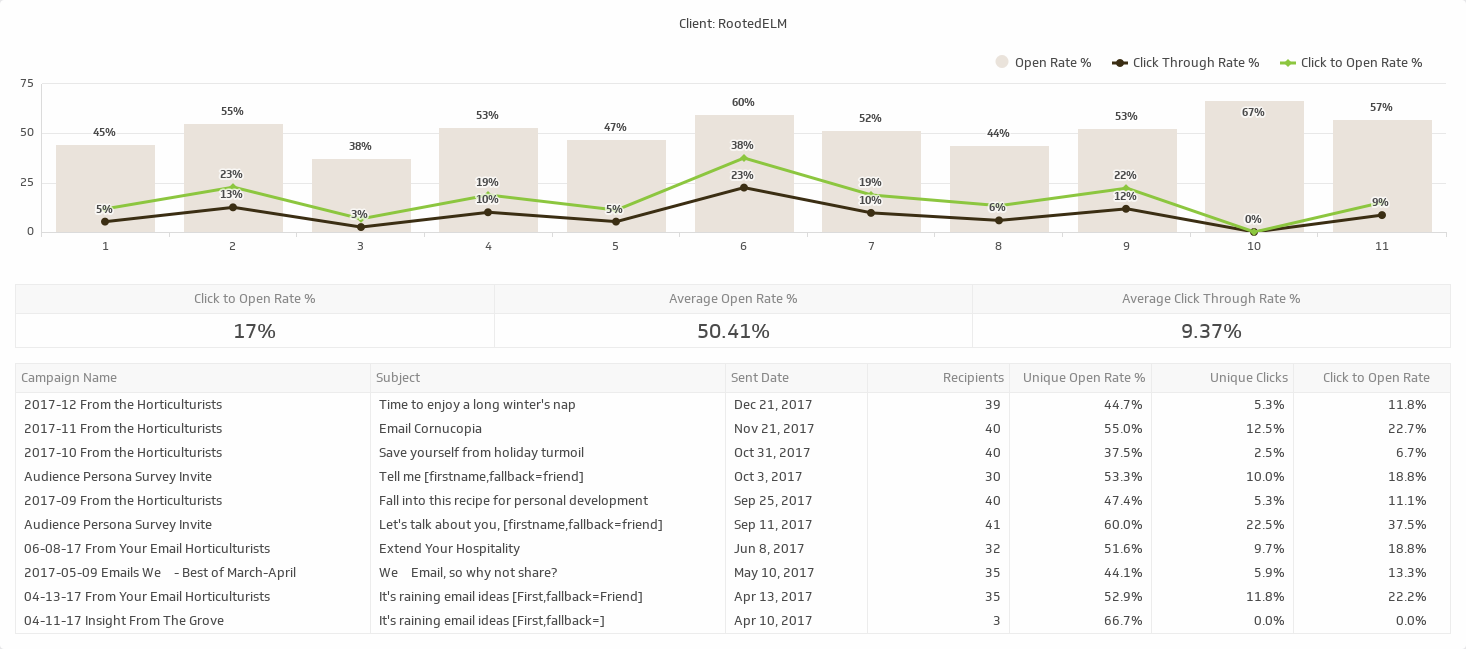 In addition to trends with your click to open rate, your unique open rate an unique click-through rate, a specific metric to pay attention to is the life of your subscriber; the time from subscription to when they unsubscribe and how they unsubscribe.
In the visual dashboard below, it's easy to validate that we need to build more trust through our welcome series and increase the email campaigns from one to several. By adding these additional emails, the high unsubscribe rate and spam complaints will reduce within the first 90 days. This visual also tells us that a reengagement series should be applied before the subscriber hits their one year anniversary for sure and possibly sooner after the new welcome campaigns come to fruition.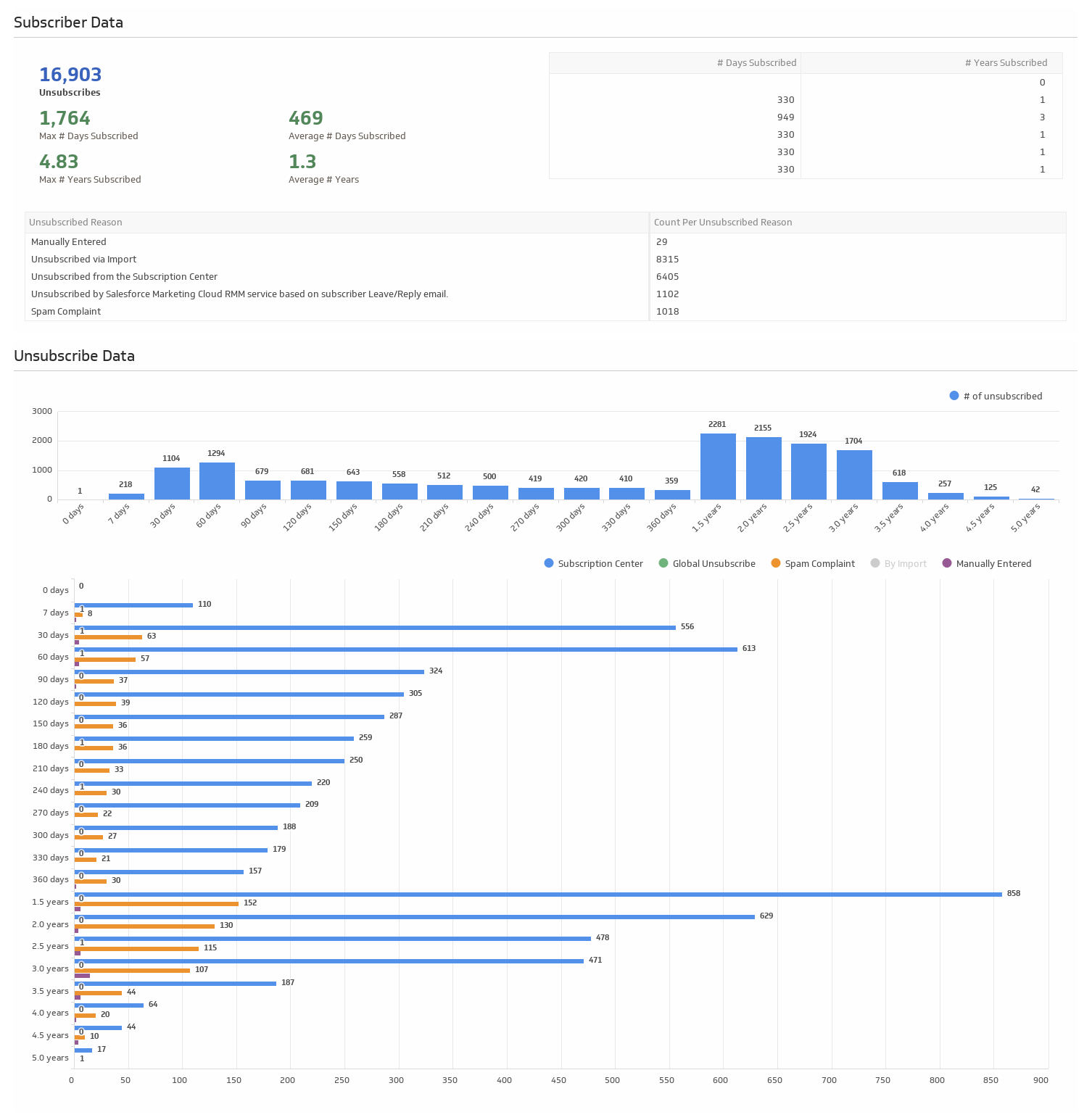 Listen.
Remember you are sending to people, not just an email address. My opinion: this is the essential piece of the puzzle. Whether it be in a group setting or individually, sit down with members of your team, management, frontline staff, and sales and ponder: what is the reason we are creating this content? What action do we want our subscribers to take? What value do we offer our subscribers?
Talk to your audience individually or through an online survey to find out why they care about your company, your services, the products you offer, and the experience you give them. An A/B split test is a form of listening and so is purchase behavior. Combine your dashboard with the knowledge you've received and ask the hard questions, and you'll be able to plan for a stronger email program in 2019.
Cultivating your email marketing program is ongoing.
Take on one task at a time and perfect it as best as you can, then work on another tomorrow. Be methodical and meticulous. Each day your program will get stronger and you'll be smarter and your subscribers and your management team will thank you.
Not to mention — we're also here to help.