Sometimes, I snap a pic of my cat doing something really adorable and I make a spur of the moment decision to post it on Facebook. And sometimes, I run across a really great quote and I decide to share it on my personal blog, and Twitter, right in that moment. You probably use social media the same way. There's not a lot of planning; it just sort of happens organically. But that's not the way your business should be using social media or sharing content.
The best way to ensure that your sharing relevant, timely content is to create a content calendar. This also helps prevent large gaps in posting and keeps you in front of your audience on a regular basis. Here's what you need to know about creating your own content calendar:
1. Not all content calendars look alike.
Play around with different styles to find the one that works best for you. What works best will be the calendar that you actually take the time to keep updated. At RootedELM, we use a simple, monthly style calendar to look ahead to possible blog post topics, email newsletters and social media posts.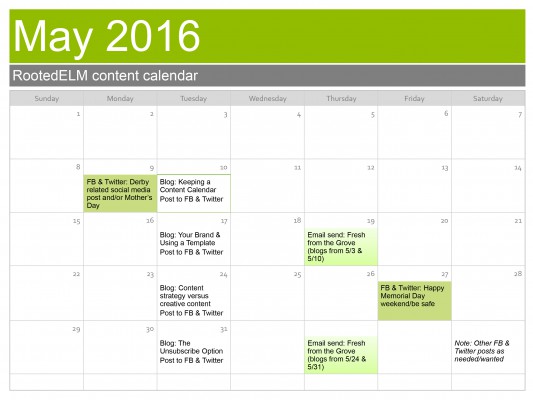 We're a small team so it's a little easier to collaborate and assign ownership of content. If your team is larger and more detail is needed, you'll want to include who is responsible and use a style that offers more room for advance planning. In terms of including where to distribute your content — post where your audience reside and with content they will find most useful.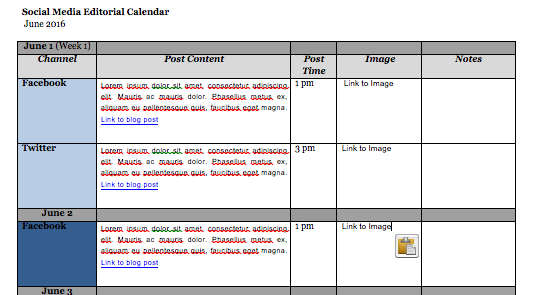 2. Schedule ahead, but leave room for impromptu posts.
A content calendar works best if you work at least one month ahead.  That way you can plan to incorporate upcoming events, holidays and relevant seasonal information in your field. For example, if you were an accounting firm, you would plan to post content about end of year tax deductions in November and December. In addition, having your content planned in advance means your less likely to push it to the back burner.
Some content simply can't be planned, however, so leave room in your calendar for inspirational blog posts and on the spot social media. You want your content to be well planned, but also flexible enough to include that fun photo of your team on-site at a conference or that blog post addressing a current event. Leave space and be prepared to adjust your calendar for these posts.
3. Share your calendar with the entire team and seek input.

 
It's important that your entire team be up to speed with your content calendar. If you decide that a single person will be posting, other team members should be encouraged to supply ideas to the calendar. If multiple team members will be posting, the calendar helps ensure that duplicate posts or competing posts don't end up on your social media page or blog. Either way, keeping your entire team informed promotes awareness and the ability to share that content on their own social channels and within sales presentations.
4. Follow the calendar!
Sometimes the biggest challenge with a content calendar is simply following it. We can be guilty of this but have found that printing the calendar out keeps our team on track.
---
Here's a few resources to get you started:
Editorial Calendar Tips, Tools, and Templates
Four Mistakes Content Marketers Make When Creating Editorial Calendars