In our continued Template Talk series we're focusing on WYSIWYG email templates. These are the templates you find in your email service provider already coded ready for you,  eliminating the need of HTML knowledge. While these can make it easy for your team to quickly put an email together, they have their limitations.
Salesforce Marketing Cloud (SFMC) has always had wire frame templates that many of our customers have utilized, customizing each content box to match their brand. Other Email Service Providers (ESP) such as Campaign Monitor, have predesigned templates with a drag and drop interface where most of the formatting is already applied. The downside is you're limited to what is available in the template. Most often, this means colors, font, layout and even a branded header and footer. Could it be possible to have the best of both worlds? You bet — as long as you have someone familiar with the template language of the ESP.
Lexington Podiatry is a podiatry practice that breaks the mold from others. It was only fitting that they do the same with their email campaigns and eliminate the "canned" format sent by their colleagues. RootedELM has worked closely with Elise Menold Hinchman, Marketing Director, to create a series of WYSIWYG templates uniquely theirs. Ever since, Elise has been able to create an email campaign from an email template and then edit the content without having to know or learn HTML.
The SFMC is in the process of releasing their new Content Builder which introduces an improved drag and drop user interface. Lexington Podiatry has been a part of the beta program since it was announced almost two years ago. With the launch of their new online store, Elise wanted to develop an eCommerce template. Using a variety of eCommerce email campaigns as inspiration, RootedELM developed a template that Elise could use. Unfortunately with new technology, there has been a few hiccups along the way.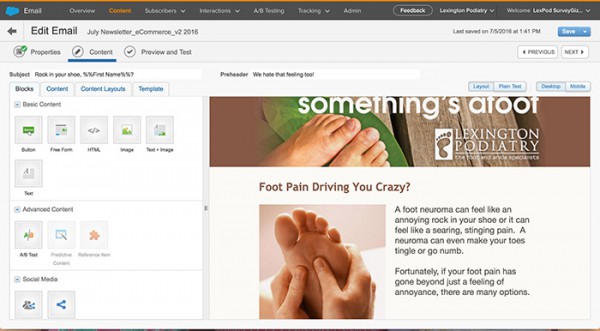 Using Litmus as a rendering and coding tool, we were able to troubleshoot additional code applied by SFMC to the eCommerce email campaign when our formatted content boxes were added, throwing off the design and expectation. To get around this, we've reformatted each drag & drop content box once incorporated into the email campaign by editing the HTML to match what we intended within the template.
"Testing has been difficult," admits Elise. "I think we all know what we want to see, for example, the image to be centered — but in this particular case it just hasn't worked out."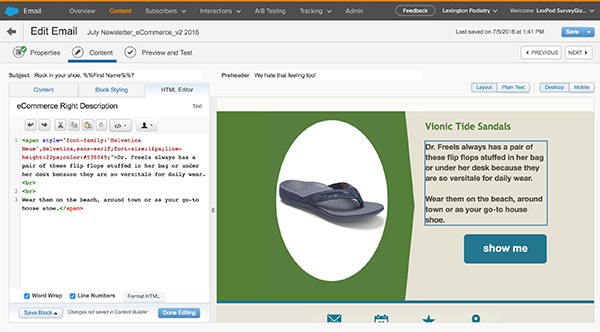 We've found quirks here and there — some related to learning the new user interface, but mostly testing what works and what doesn't. That is the key to anything. Sometimes there is no better way to learn a new program or software than to troubleshoot.
SFMC has made improvements since we started using Content Builder. Elise launches her first eCommerce email today (July 8th). As far as making it easy for Elise to utilize this template for future campaigns, she will simply make a copy of this tested campaign and edit each content box using the WYSIWYG editor. We look forward to monitoring her results and continuous enhancements by SFMC.