Want to ensure your content is engaging and relevant this year? Here are 5 quick tips to help make your email content easy to write and stand out in the inbox:

Draft a Keyword Bank
The first step is to do your research to identify your main message. What content will your audience find useful? What are the key phrases you want to share with the reader? Write them down. These don't have to be complete thoughts—think of it more as a word and phrase "bank" to work from.
A blank space can be intimidating and creating a word bank gives you a solid start. Ultimately, you'll hone your final content from these ideas.
"We all need to make sure that our content meets one or more of these three criteria"
The reader can DO something
The reader LEARNS something
The reader FEELS something
Paraphrased, and although Andy Crestodina is talking about blog posts here, we can directly apply this criteria to email content. Check out pages 113 – 115 in his book Content Chemistry.*

Use a Thesaurus
Even the best ideas may not impart your message the way you imagined. Sometimes you just need a different word.  I frequently pull out my trusty thesaurus (okay, thesaurus.com) to identify other ways to impart the same message in a more fresh or relevant way.
Look back at your word bank and use the thesaurus to find stronger words, action words or friction-free words for each of your key messages.

Draft and Then Walk Away
My number one tip for generating the best possible content involves taking a big step back. Create a very rough draft of what you want to say, and then step away. When you come back to it later, you'll be looking at it with fresh eyes, and undoubtedly, fresh ideas.
When it comes to voice and tone, think about your email as a person-to-person conversation you are having with the reader. It doesn't need to be perfect the first time. It needs to be genuine.
Another huge part of this equation: Collaboration is key.  Ask for input from another colleague—they may be able to point out where your intentions are unclear. Lisa and I frequently find that our best work is a result of direct collaboration during the refining process. Revise until the content clearly meets your original goals.
Change Mediums
Another way to get fresh eyes on email content is to print it out. We live in a digital world but printing out an email or template forces you to process it differently. You'll be surprised with the quickness you can catch errors and edits just by changing the medium you're using.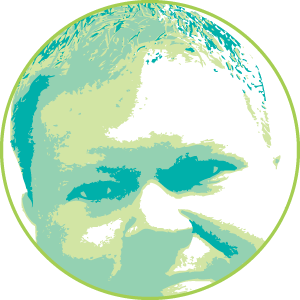 Jason Meeker,
RootedELM Strategic Partner

Write Your Subject Line Last
The last thing you should write is the first thing your audience will see—the subject line. Think of it as a catchy headline that summarizes your email. Write down the key points from your email, then brainstorm ideas based on that list.
Subject lines can be fun—this is where you can use puns, rhyming and play on words. Using emoji's in subject lines is another trend that can increase open rates and provide a captivating visual when used correctly.
Remember to include the most important information first in your subject line and keep it to no more than 50 characters. It also must be meaningful to the email content. Finally, run your subject line by a few peers to be sure any wordplay is instantly recognizable and not too corny.
CUE-DIVE Method
Subject line and preview text content can be Contextual, Urgent, Emotional, Detailed, Intriguing, Visual and Earned.

Email Marketing Rules
by Chad S. White — pg. 374*

Call in Reinforcements 
Finally, if you're still struggling to create content that hits the mark, consider using a ghostwriter. Content development is not always easy—you may be short on time or creativity. A professional content developer (like me!) can help or even just provide a much needed second set of eyes.
Stuck and need a little inspiration? We frequently read books, blogs and listen to podcasts for ideas on producing better (and easier!) content.
A few of our favorites:
And from our own blog:
---
*We are a participant in the Amazon Services LLC Associates Program, an affiliate advertising program designed to provide a means for us to earn fees by linking to Amazon.com and affiliated sites.