One huge takeaway from Content Marketing World 2016 was the concept of slowing down. I especially enjoyed the slide Ann Handley, Chief Content Officer of MarketingProfs and author of Everybody Writes, put up of a tortoise–and not just because of my own little guy, Francis (above).  Actually, what resonated the most was @annhandley recommending to "Slow down to kill it in 2017…..be more plausible, thoughtful and deliberate."
The idea of slowing down and getting organized is one we can all use when it come to our marketing, and our business as a whole.
It's easy to get caught up in putting out fires and let's face it–answering emails. However, it's like the saying goes: we have to put on our own oxygen mask first so we are able to help others.
Here's a concept we're trying, and I urge you to give it a try as well: set aside one day a week for self reflection. Make it Monday, if you can, because research shows that if you wait until the end of the week, you are likely to be "too busy" and it will never happen. Spend this one day shaping your work week. Whether you're an entrepreneur, small business, marketing team of two or flat-out just need it, you might try shutting down external distractions to focus.  Look at your marketing plan and use the time to set goals for the week, complete action items and engage in continuing education.
By putting your company first, you'll begin the week rejuvenated and ready to give your customers the very best you and your company has to offer.
Monday has become our "RootedELM day" for discussion, research, evaluation and planning. With just a few people in less than two weeks, our team has accomplished the following and we have so much more planned:
Attended and shared content from Content Marketing World 2016.
Removed the posting date from all blog posts (thank you @crestodina for that advice).
Brainstormed on how to make the greatest impact in the shortest amount of time. (Meme's and Buffer!)
Used Canva for Work to share responsibility in creating meme's to amplify some of our more popular content using Buffer (also a new tool).
Evaluated several CRM platforms to enhance our customer journey.
Scheduled client interviews to clarify gaps in our messaging and service to become more customer centric.
Attended the Litmus Design Conference in San Francisco.
Set tasks in Flow, our collaboration tool, to make specific changes to the RootedELM website and blog.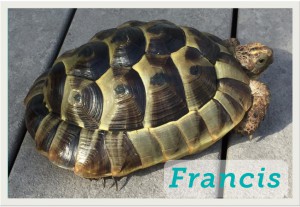 In all actuality – Francis is a pretty fast character. In fact, I lose him quite often when he's put outside to get a little Vitamin D. The tortoise reference by Ann Handley has been perfect for me because I've reduced distractions, taken back control and made time to focus on where I can make the biggest impact with my clients and team. AND not lose my tortoise.
Give it a try and let us know what you think @rootedelm.