Using surveys accomplishes two things in an email – it entices the subscriber to engage, which aids in delivery of future emails, and it enables you to obtain simple feedback from your audience. We've been trying something new lately and have two clients embedding the first question of a survey directly in the email.
How it works.
SurveyGizmo is our survey tool.  After the subscriber answers the question in the email, they proceed to a landing page with the next question ready to be answered. Alternately they are directed to a closing statement and thank you page.  A little coding takes place on the back end, but answers are recorded within the email service provider making it easy to personalize or segment for a future campaign.
Seems easy right?  It is, but here are few tips to keep in mind:
Lead with your most pending question
Use a radio button or single image as your embedded answers to the question
Set expectations by communicating how long the survey will take
Consider accepting partial answers – remember you're asking your pending question first
Follow best practices for survey design
Here are a few examples:

The audience for The College Program consists of high school students involved in searching for the right college.  As this is the start of a new school year, we need to pull out and remove those who have graduated, found their school or no longer find the email relevant.  We're using the survey as an example to re-engage and figure out where they are in their search process.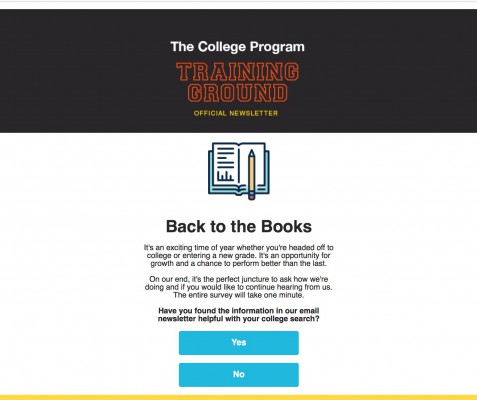 A&W® Restaurants is learning more and more about their audience over time by asking single questions in email.  Their audience loves to vote and share their favorite items. We've asked questions on topics ranging from Cheese Curds to mobile devices.  The feedback has helped A&W® Restaurants re-engage their audience and discover a need to test mobile coupon redemption.

Send a good survey.
To learn more about survey design, the SurveyGizmo blog is a great place to start. Happy surveying.