In the email marketing world, there is nothing greater than when an email campaign hits the sweet spot. As a consumer of Lilly Pulitzer clothing, I am aware that they hold a massive final sale in July. What I wasn't aware of is they do the same thing in January! Thanks to a perfectly executed email campaign, now I do. Over three days I received eight unifying emails as part of the same "After Party Sale" campaign which caused me to spend a small fortune. Because Lilly only goes on sale twice a year, when you have two teenage girls that love their Lilly…you stock up!
The first email came in the night before the "After Party Sale" (below left). Somehow I missed it but the second email (below right) with the subject line: Just released sale styles have landed! sure caught my attention.  I did just what the email said to do: "Freak Out!" After a brief wait in the online line for my turn to shop –  I was glued to lillypulitzer.com for the next hour (well maybe a little more), but luckily it was toward the end of the day! I sent my oldest daughter a text to call me immediately when she was free. She was in her study hour and wanted to know what was so urgent; My reply was "the Lilly sale is going on now!"  She had the same response I did and headed to the Lilly website, sending me her favorite choices. Needless to say, her friends just rolled their eyes at her when she told them what was going on. By now, my shopping cart was full of beautiful dresses for upcoming formals, spring break and graduation and I had to make a decision fast on what I was going to purchase. I had already lost out on two perfect dresses as they were selling fast!  Now do you understand the havoc?  Back to email marketing.


After feeling success with combing the Lilly website, I made my purchase. My girls were excited and so was I because this time, I was able to purchase a few items for myself. The excitement was contagious, and during a project call, I informed Christina Noll of the sale and she also jumped right on the website and was able to purchase a few items as well. I went to tweet my findings and discovered others were in a frenzy just like myself. An entire community of Lilly aficionados were on a mission to get these great deals! This led to me following @LillyPulitzer now on Twitter and Facebook, so I could be even more a part of this community.  I even found a resale community on Facebook to sell our gently used items now.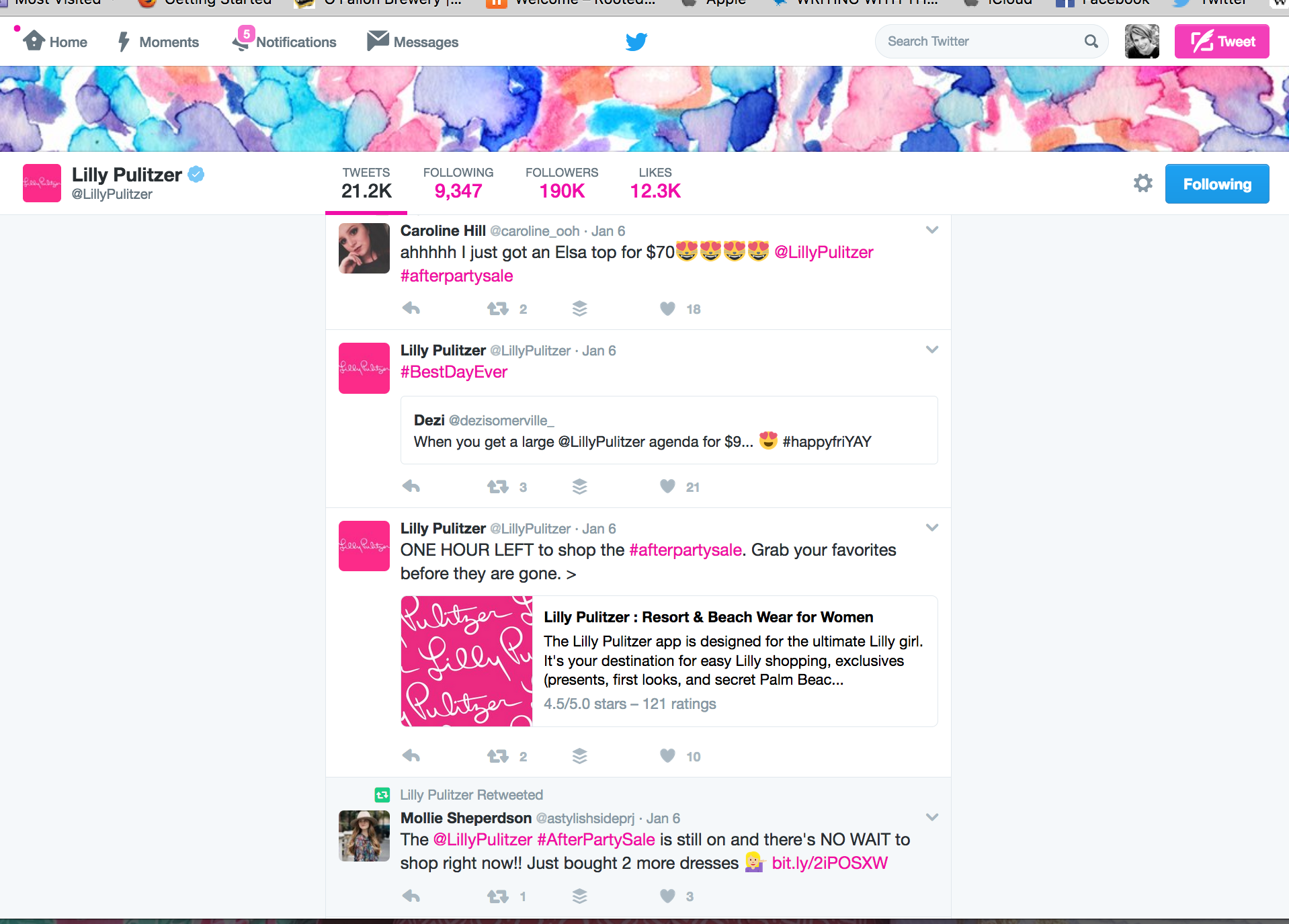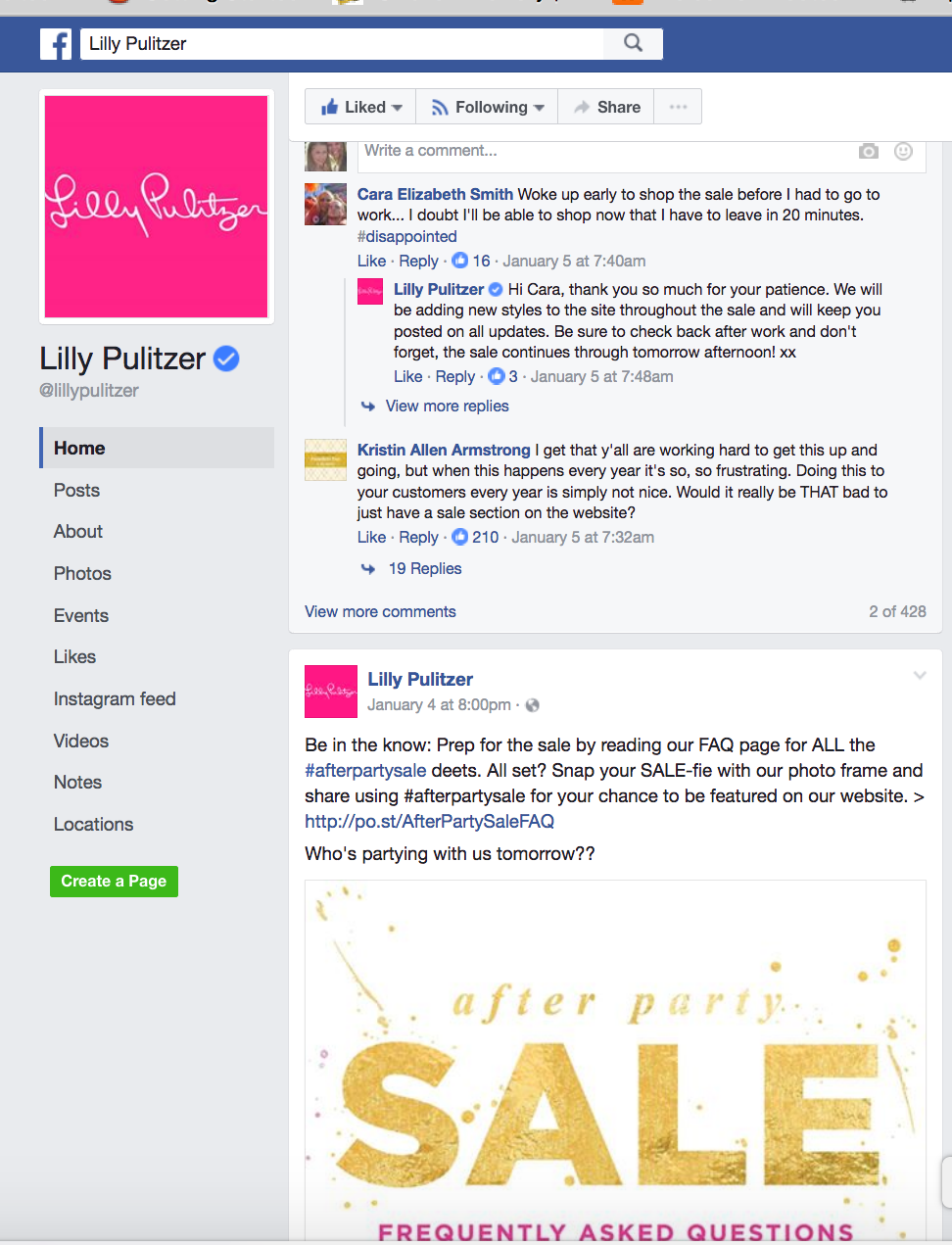 But here's where the story gets juicier. That evening just before nine, I received the email below (on the left) with the subject line: What?! New styles added to SALE, which caused me to go back and make another purchase! Twelve hours later another email came with the subject line: Just dropped: new to SALE with even more sale items added to the website. Then the countdown began two hours later with: Don't miss out! Sale ends soon.
Lilly had done it right. Each of the emails had animation, rotating photos of the new items that had been added (shown below) to peak my interest even more. The voice and tone used in the copy matched just what I was saying to myself in my head. My attention span was in their hands for two days now. I had emailed, tweeted and posted the sale to my friends and colleagues. I had spread the word and so had others. The campaign was a huge success.


The next morning Lilly sent one last email just in case I wasn't done shopping. This was sent just before 11 am with the subject line: Don't miss out! Sale ends soon…And finally the following evening, I received this animated Thank You email with photos of other shoppers showing their excitement.  This had the best subject line yet to sum up the experience: What. A. Wild. Ride.


When my purchases did arrive in the Lilly signature pink palm packages, I opened to find a note saying "You Have the Best Taste. You Ordered…."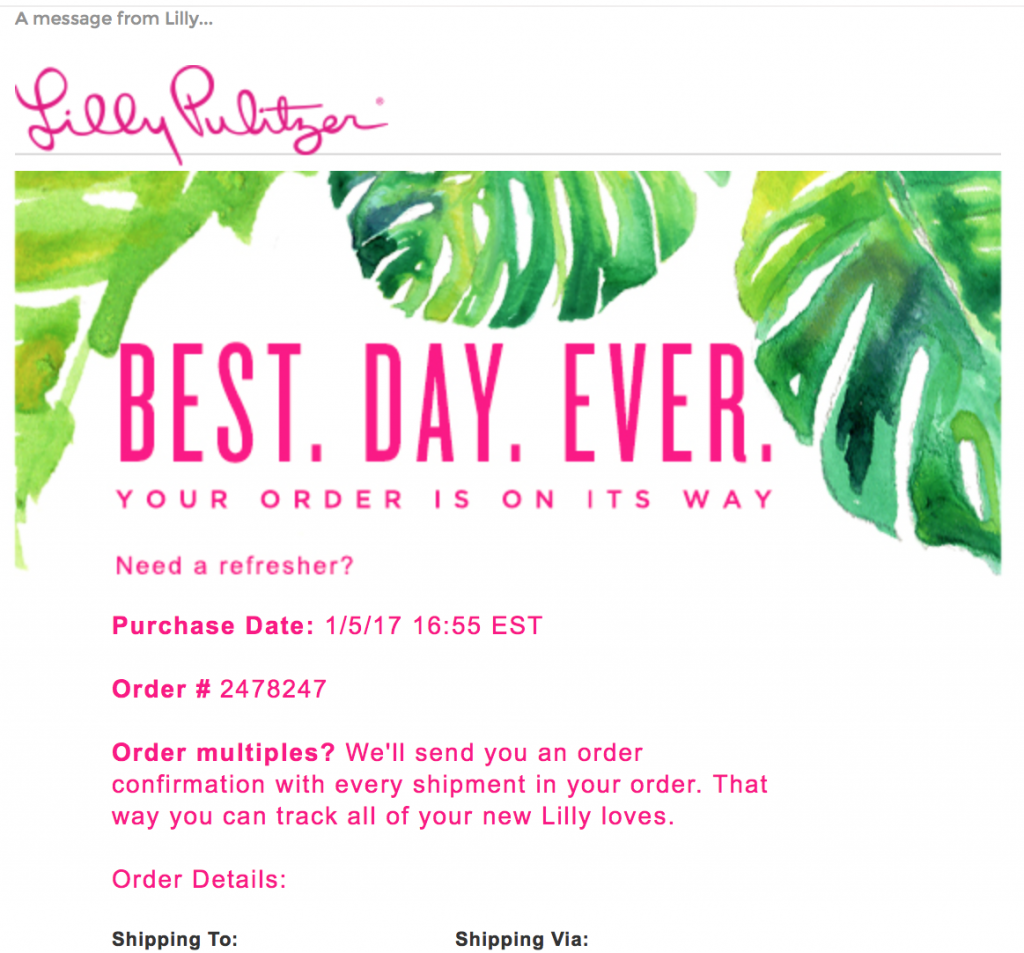 I received my final email asking to review one of my purchases. This is a campaign that is all too often missed by companies, but probably one of the most important and easy ways to obtain feedback directly from your customer. Well done Lilly Pulitzer! I'll see you in July.