Which Social Media Channels Are You On?
By now, most companies are on Facebook and probably Twitter. But what about those other social media channels? Should you be filtering photos on Instagram? Pinning to boards on Pinterest? Tumbling on Tumblr? Here we'll provide a snapshot of alternate social media channels and how they could be used to provide good PR for your business:
Instagram
Instagram lets you connect with customers in a unique way that tells your brand's story in the most real way possible: through candid photos. In addition, this photo sharing site makes it easy to share through all your other social media channels, like Twitter and Facebook. Play amateur photographer and use the vast array of filters to give your image interest and offer followers a behind the scene look at your brand. JCrew and Starbucks are just two of the big brands using Instagram in clever ways to further engage customers.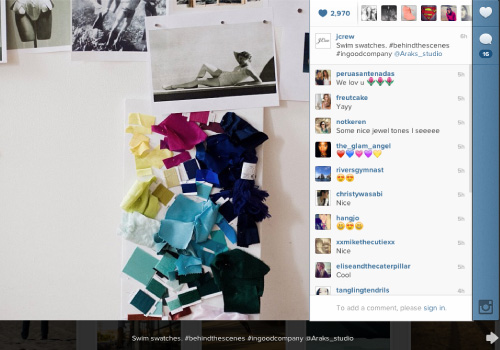 Instagram is a great venue for letting customers in on what happens "behind the scenes," as shown in this post by JCrew. Using hash tags (#), much like on Twitter, allows followers to search by topic.
Pinterest
Pinterest, the virtual pin board, allows users to collect a virtual scrapbook of ideas.  The site is growing in popularity and driving traffic to company websites in record numbers. Companies can use Pinterest to showcase relevant news or tips your audience will find interesting. Those in the know recommend putting a "Pin It" button on your website, so Pinterest users can pin your items straight to their boards. Many big brands are already on Pinterest.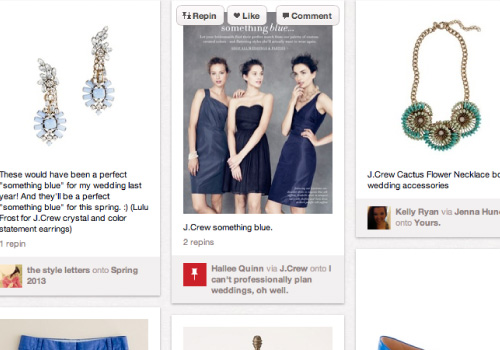 Pinterest allows companies to organize posts into "boards" by topic and allows followers to "pin" images they like for possible later purchase. JCrew takes advantage of this venue, offering boards featuring color, pattern and new items.
Tumblr
Tumblr is a blogging platform that allows users to post text, images, videos, links, quotes and audio to their own personal platform. Although it has a reputation for being something of a teenage obsession, many large companies are using Tumblr successfully. Probably the number one reason is the ability to spread information at lightening speed, due to the platform's "reblogging" feature. Photos, videos and anything shiny and new–ie: won't get lost in the crowd–do best on this social media site.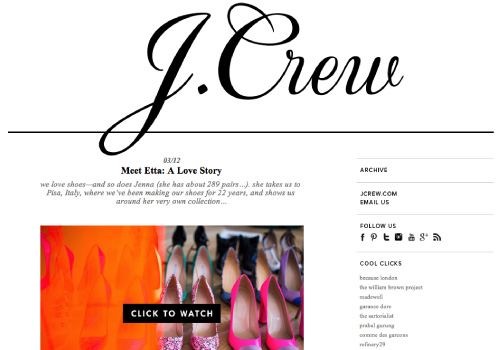 JCrew utilizes Tumblr's natural capacity for photos and videos in a blog like setting, offering followers a little more story behind their newest collection.
Are you using Instagram, Pinterest or Tumblr to connect with your audience? Do you plan to? Let us know!