Too gross? Or just the thing for grabbing attention?
These are the questions the team at Lexington Podiatry asked themselves when they recently started posting videos of medical procedures on their social media.
Elise Menold Hinchman, Marketing Director at Lexington Podiatry understands that some of the videos might be a little much for her target audience. "I'm hoping that even if they look away, it has enough recall factor," she says. The goal is that the audience remembers Lexington Podiatry the next time they themselves, or someone they know, has a condition they've seen featured in one of the videos.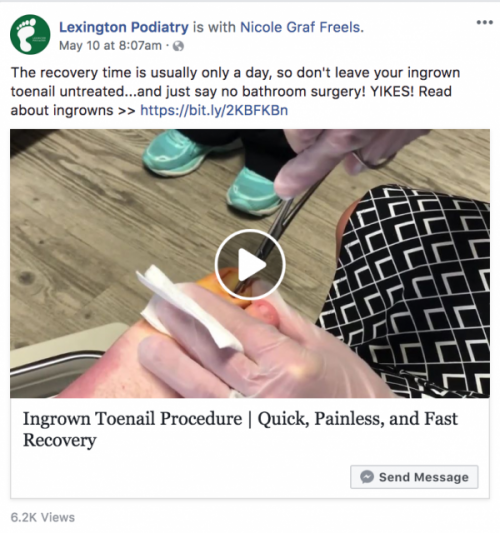 A New Way to Connect
Prior to the videos, Elise says they weren't getting much engagement on social media posts. "You feel like you're screaming into a void," she says. "You're doing all this hard work and nothing comes from it." The idea to post a video was something new to their audience and worth a try.
The first video the team posted was of Dr. Nicole Freels demonstrating a product that looked a little bit like something else–in a humorous way.  They named the video, "What the Heck is it?" and the response was outstanding. "People were responding; They thought it was funny. So then we decided to do another one," Elise says. After that, companies that specialize in products related to podiatry began sending the team products to review on the videos, and the excitement continued to grow.

Stage Fright
Of course, there have been bumps in the road on the way to video stardom. The medical providers in the office struggled at first with giving on-camera explanations, so Elise switched to a question-answer format that seems more natural. And although the videos are edited after filming, there is always the possibility that something unexpected can happen.
"Our fear was always: what if we shoot one of these videos and something goes wrong?," says Elise. "We're over that fear now, because it does! One thing I learned recently at a conference, is that if you're not embarrassed by your videos, you're not doing them quickly enough. No one is judging you on your videos, they just want the content."
Success That Shows
Elise and her team follow 30 different doctor's offices—not all podiatrists—and benchmark Lexington Podiatry's engagement scores against the others. Although the videos take a lot of time to put together—from filming, editing, making captions, crossposting, etc.—they are succeeding in gaining attention and helping the team to grow their Facebook and social media presence.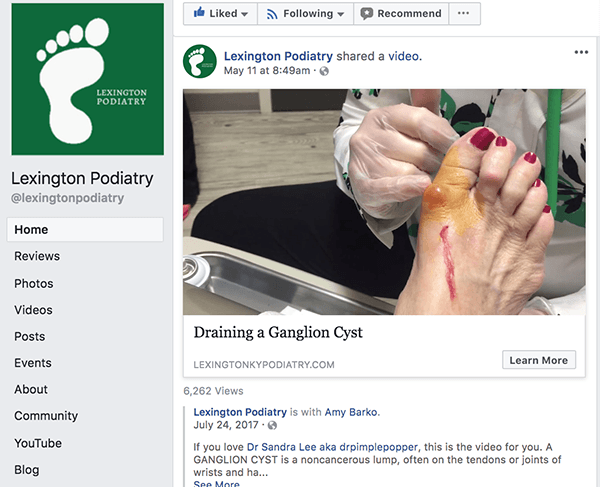 Although the number of likes on Lexington Podiatry's Facebook page had stayed static for about a year, since adding the videos, the numbers have jumped. One reason is that every time the team posts a video, which are getting bigger reach than traditional posts, the team goes in to see who liked the video and invites them to also like the Facebook page if they haven't previously.

And it's not just the videos. The team also recently added a social media counter—called Smirrl—in the reception area of their office. Elise made a sign that says "Watch me flip out—like us on Facebook." Now, when people come into the office and see the sign, they want to like Lexington Podiatry on Facebook so they can watch in real time as the sign flips. "They've (Facebook) also made it really easy to share and invite other people to your page now," explains Elise. "It was shocking to me how many people liked our posts but had not liked our page." The team invited all of their friends to like the page and that also helped to grow the audience quickly.
Making Google Your Best Friend
Another thing Elise has learned is to use Google to the fullest. She not only cross-posts all her content to Google+ (which is on the rebound) but has also discovered a new promotion through Google Posts. When someone looks up Lexington Podiatry on Google, in addition to the location of the business and reviews, Google now includes space for an ad with a photo. "It's been around for six months or longer and there are very few businesses doing it yet," says Elise. "Google Posts are free and not paid like a display Google Ad…but they look so good, you'd think you'd have to pay for that exposure."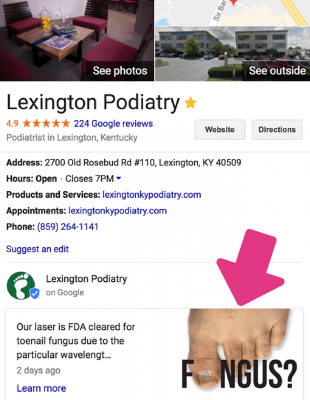 What's next? Live From Lexington Podiatry…
Although the edited videos have been a great success, Elise knows that live video is on the horizon. "We're trying to get over the fear factor of it and pushing ourselves more because the kids getting out of podiatry school right now were born with a phone in their hands and are not afraid to do live videos," she says. In addition, it's easier to get a video in front of an audience if it's shown live on Facebook.
The same holds true for static Instagram posts. "I read an article the other day that said you can basically forget about it being seen if it's not in the "stories" on Instagram and you're targeting millennials," explains Elise. "We're giving ourselves a little bit of grace, though. We don't have to be the first, we just have to eventually get there."
We think the team at Lexington Podiatry is already leading the way! What about you? — Have you tried posting edited or live video on social media? How did it affect your engagement? Let us know!