Welcome campaigns are a nice way of saying Hello to new subscribers, but they can be overly generic at times. The most enticing welcome campaigns are tailored specifically to a certain segment of your audience. They say, "I wrote this message especially for you."
A great example of a recent welcome campaign that does just that comes from the Philadelphia Convention and Visitors Bureau (PHLCVB). With the launch of a robust website and brand came the need of a new email series.  Using the location of opt-in within the website Subscribers are segmented based on specific interests sending a welcome message geared toward their needs.
Start Your Welcome Campaign
Although this seems like a complicated endeavor, it's actually quite easy to do: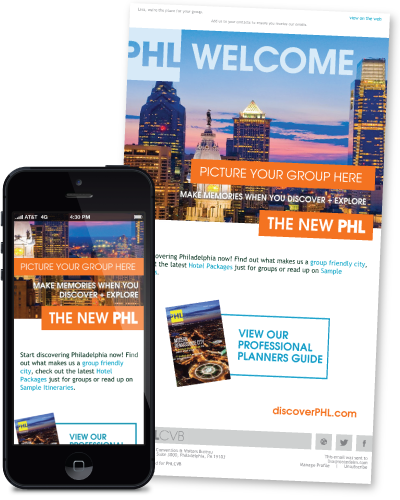 1) Determine your key audiences. In the case of PHLCVB, they indicated several potential types of subscribers–among them member prospects, meeting planners and travel trade professionals.
2) Compose welcome campaigns to launch to subscribers in the segmented audiences, based on knowledge gained at opt-in.
3) Set expectations within the message.  Keep it simple but remind them what will they receive, how often and when can they look forward to hearing from you again.
4) Invite them to white list add you to their safe sender list.
5) Set a welcome series sharing information between you and your Subscriber over a period of time to expand on their interests for deeper segmentation and increased engagement with future campaigns.
With the introduction of the Welcome Series Playbook in the Interactive Marketing Hub, ExactTarget has made it even easier for clients to welcome their subscribers effectively.  We invite you to check it out.
In a followup post we'll discuss the results of PHLCVB's campaign, including list subscriber growth both before and after the release of their new website.
Additional Insight