Here at RootedELM we've been talking a lot lately about the difference between a campaign and a community. Campaigns are great for disseminating information to potential and current customers. Say, for example, you're having a sale, or you have exciting news to share–a campaign is a necessary tool.
But moving beyond campaigns is where the real magic is found. Community is about creating a loyal followers who embrace your brand, and talk about it even when they don't see you in their inbox.
A good way to envision community is to think about your favorite band. If you are a big fan, you probably buy more than just their music. You buy the t-shirts and posters; you follow the band on Facebook and interact with other fans on Twitter; you bring up the band at parties and recommend their latest album to your friends. You are part of the community.
Recently LuLuLemon sent out a campaign email that demonstrates this attention to building and maintaining a community around a brand. The email doesn't just lead you to shop the latest products; It adds value to the customer experience by connecting you with blog posts and inviting you to learn more about getting the results you desire, including "ready, set, goals," a link featuring tips for realizing your own vision.
Check it out: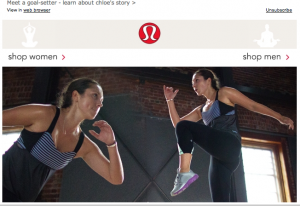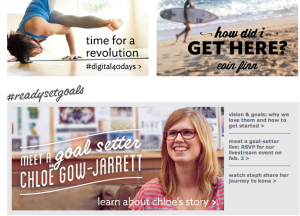 How else can we encourage community among our customers?