We've been working hard to help our clients at A&W Restaurants, Inc. as they move forward with a complete rebranding and re-engagement with their customers. We want to share this experience and the insight we've gained through the process.

Background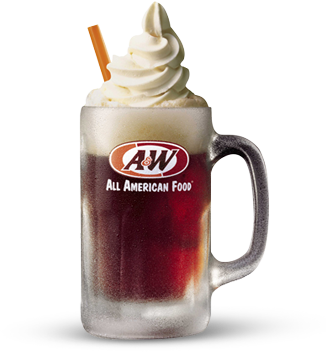 A&W Restaurants, is distinguished by its draft root beer and root beer floats and its "frosty mugs," where the mug would be kept in the freezer prior to being filled with root beer and served to the customer. Today, A&W has franchise locations throughout the world, serving hamburgers, French fries, hot dogs and of course Root Beer Floats, among other items. Previously owned by Yum! Brands, the chain was sold to a partnership of A&W franchisees in December 2011.
During the transition after the sale of the brand, A&W lost all of their customer data, including subscribers to their Mug Club. "We obviously had to start the Mug Club over," explains Liz Bazner, Social & Digital Communications Strategist for A&W. "We went with at three-prong approach to launch our new website, new smart phone App and new Mug Club."
The first step was running a Facebook sweepstakes in June, 2012, using a spoof of a viral video featuring the company mascot. Participants were asked to click to enter and then provide their email address. "This enabled us to realize a dual purpose of spreading the video to increase our online presence while also being able to capture consumer information at the same time," says Liz. The results were just over 3000 new subscribers in about four weeks.
RootedELM then helped A&W and their marketing partner, Cornett IMS, create a re-engagement campaign, sending emails to all of those previously captured during the sweepstakes promotion. The result was a retention of about 20%. "So we didn't start out with huge numbers but it was good timing for us to launch our Mug Club in coordination with our new website and new App. Everything went live on January 28, 2013 and we've had steady growth since then," says Liz.
Goals
A&W's main goal with the overall campaign is to increase their subscriber list to the Mug Club and thereby increase customer engagement. In order to do this, they need to provide a full online experience and connect all online activity for the consumer.
"In terms of what we do online, and for everything we do digitally at A&W, we like for everything to be connected and to come full circle," explains Liz. "So for example, when people are visiting our webpage, we've got a very active social page on there that then directs them to Facebook and Twitter so that everything is interconnected."
To this end, RootedELM suggested setting up the Social Pages tab through A&W's ExactTarget Account. The Social Pages tab allows A&W to add personalized content from a single source, while collecting visitor information and growing subscriber lists across channels.
Social Pages
A&W currently has a fantastic Facebook following with just over 160K fans and an active engagement, hovering around 5%.
Average for the QSR industry is around 1.5%. "It just seemed like perfect timing for us to harness how active people are really being on our Facebook page," says Liz. "We do get a lot of people who ask for coupons and want to know more about A&W, so it just seems like the perfect fit to be able to direct people from our FB page into our Mug Club to get them signed up for monthly coupons and a free Root Beer Float on their birthday."
RootedELM has helped A&W outline realistic goals for this endeavor, aiming for 5,000 new subscribers by the end of July and 10,000 by the end of the year, representing a 20% growth each month. "It's not an impossible goal but it's an aggressive one," says Liz. "I'm excited to see what happens. We've got such good metrics to look at and Lisa's made it so easy to go in and see the progress and really see in real time: how many people have subscribed, how many people are clicking through and how many people are staying in the club. We have a really high retention rate, which is good."
Next Steps
We'll talk about our strategy and exactly how easy it was to set up Social Pages in ExactTarget in an upcoming post. Stay tuned!